Good afternoon, hope you're doing well. :) As previously promised, this post is going to be about one of my favorite foot creams, Burt's Bees Coconut Foot Creme with vitamin E. I purchased one of Burt's Bees introductory trial sized sets and this is one of the products that stood out to me, so I currently own a nearly empty trial-size and a (25% used up) full-size tube. This foot cream made from coconut oil is very rich and has a wonderful coconut/minty smell. Be careful when using it not to touch any surfaces because, although it is called a cream, it is really more of an oil. This oil is solid at room temperature but will melt when it contacts skin. Don't worry though, it absorbs into skin very well, so it won't leave a greasy heavy film- but it is a good idea to use cotton spandex blend moisture socks. However, I'm pretty sure it will leave that film on your hard and soft surfaces. I've used other foot creams also but I prefer this one because of its natural content. I also think it seems to absorb and moisturize rather quickly!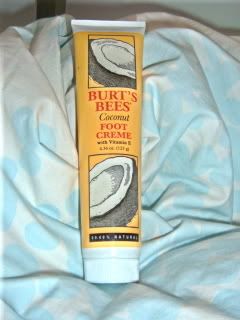 I really love the products by Sally Hansen but when I used their 18 Hour Cracked Heel Creme, I was a little disappointed. (I've given it a fair chance, my tube is nearly gone and I purchased it before I'd ever tried the B.Bs.) When my heels are severely cracked, I've on separate occasions applied both creams and found the Burt's Bees formulation to actually appear to start sealing and healing the cracks within the hour but I don't feel that I can really observe visible results with the Sally Hansen cream. Don't get me wrong though, I actually love Sally Hansen products and will extol the virtues of their nail polish and nail care products on a future post! (Their product does smell and feel great though. It moisturizes fine and feels nice, but didn't satisfy me with its specific use as a cracked heel cream.)
Well that's all for this post! Also, I have a quick poll I would love for you to answer to the right. Tata for now!
sincerely yours,
rOsE